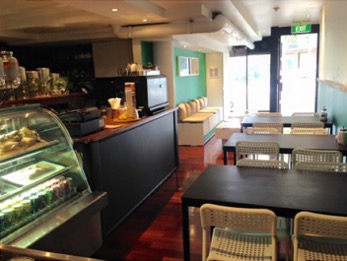 10 Oct

Entrepreneur in Action!
Matteo Melis, Business Broker
We sat down with one of our current students, Matteo Melis to speak with him about his experience in Australia. We asked him to share some secrets on how he has become a prolific business broker in Queensland.
About Matteo Melis
Matteo is from Italy originally. He began with completing our Diploma of Leadership & Management, and is currently studying Marketing & Communication.
As a leading business broker servicing the Gold Coast and Brisbane area, his aim is to work alongside clients to help identify and market the unique opportunities that their business is able to offer to buyers and investors. He also assists clients to expand their portfolio and provides them with access to his professional network of trusted mortgage brokers, solicitors and accountants.
How long ago did Matteo start working in Australia and how did the idea come about?
"During my first year in the lucky country I started covering roles as a chef de partie/kitchen hand, whatever would pay rent really!"
Spoiler alert: it's going to be one of those rag to riches stories!
"After moving to Sydney and working here and there I was tired of dealing with low rates and poor business/resource management, I decided it was time to make it happen. I started privately contacting landlords out of Gumtree (I literally went to the Real Estate section – Business for Sale – filter: FREE) and offered to take over their vacant premises, set up a business and start paying them rent. After a few meetings I landed a good deal in Crows Nest (North Sydney).  This café had failed several times, had a terrible reputation and the premises was vacant for over a year. The risk was huge and not a single person supported me. Even my family told me not to do it – I felt like I was at Luna Park! But I decided that if you have a dream you have to be stubborn about it. I realised no one will ever really support you. They say 'people want you to do well but never to do better than them' – that quote should have been in the bible! Anyway, I convinced the owner and signed a 3 year lease with a clause of having the first 3 months rent free as incentive. No money down initially, because I had none! At the time I was driving a Ford Capri 1990 convertible (broke but always Italian!) and so I sold the car for $1,300 and that was my refurbishment fund! Again – it's not about the money, it's all about motivation. P.S. I found out also that $1,300 at Bunnings, Kmart & Ikea, is A LOT of money!"
See the results for yourself, before: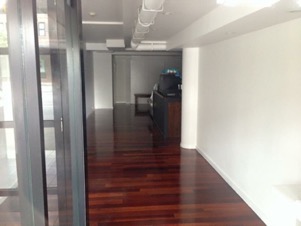 After: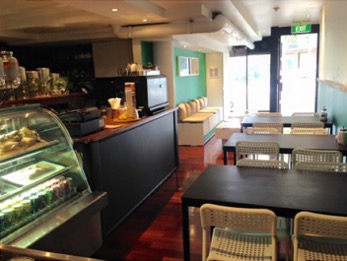 Licenses Needed:
Food Safety Supervisor – required if you want to serve food. You can do this online – approximately a 3 day course.
Food License – most of the previous shops were food businesses and so we were already approved by Council. In case you do need to apply for this, your local Council will instruct you and do everything to make that happen for you.
ABN – you can apply online free of charge on the Australian Government website. You can also pay a small fee to have it privately done for you.
How long was it between arriving in Australia and working in a kitchen, to setting up the café and working for yourself?
"1.5 years from arriving in the country and setting up the business. About 3 years visualising it and studying entrepreneurship, books about marketing, financial freedom and all that stuff."
How many staff do you have?
"I started with three staff and went into $3,000 debt during the first 2 weeks. So I sent them home and ran the business by myself until I could afford new staff. I had to wait to pay them after a month which was so embarrassing but guess what, in business you will screw up with a lot of people. Staff are expensive, don't be lazy especially during the start-up phase. Do what you can and if you don't know how to do something, learn online – there are plenty of resources everywhere. When business is stable and you can afford to, start delegating tasks. Staff are the core of the business, whether you can afford it or not, whoever you hire, make sure you hire the best. This might cost you more but will end up doubling your sales."
What's your advice on suppliers?
"There are some fantastic suppliers out there. It's worth doing some research on Google to see who's in the area – you can do business simply selling stock, no need to be skilled.  What I mean by that is get the best wholesaler to send you a bunch of croissants every morning, set up a stall in a shopping centre and there you have it! Setting up market stalls / displays in shopping centres is another good opportunity."
Did you do all the initial sales & marketing yourself and if so, what does that part of the business look like now?
"The business owner is the heart of the business, whoever you hire, make sure you're always the number one and the hardest worker. If not, then bad things happen, your sales drop, you'll lose the business or your employees will become your competition in the time of a sneeze.
Especially if you show them how to make money through their own skills! So yes, make sure you are the core of your sale and participate actively in your marketing."
Any other strategies you want to pass on that would motivate other international students to kick start their business?
"After about 6 months of running the cafe I was approached by a business broker who asked me if I wanted to sell my business, I barely knew what that meant but listed with him. After a bit of research, I put the shop for sale on Gumtree and sold it myself with a profit of over $50k."
Not bad for a first experience!
Matteo's Quick Tips:
Motivation and desire make it happen.
Magic exists.
Put yourself out there.
Australia is the land of business.
Don't limit yourself because of language barriers, especially in business. Now, after a few other adventures, I became a business broker myself, I follow multi-million dollar deals and I promise you that most of my clients, owners of some of the biggest business in the city, have no idea what grammar is about – international or Australian!
You can have the BEST concept in the world and the WORST business at the same time, very easily, marketing is what gets the ball rolling. If you don't market your products properly and follow the latest trends, people will still buy nothing.
Business is not what media portrays. You have to roll your sleeves up because in 90% of cases business owners end up crying and desperate. Any business owner can go through this and you'll most likely end up there too. But this can be great because when that happens, you will find the courage to laugh and find your way out of trouble."
Contact Entrepreneur Education today if you're thinking about kickstarting your career in Leadership and Management or Marketing.